UROLIFT OVERVIEW
Targeted Fusion Biopsy
(New MR solution for analysis, planning and targeted biopsy of the prostate)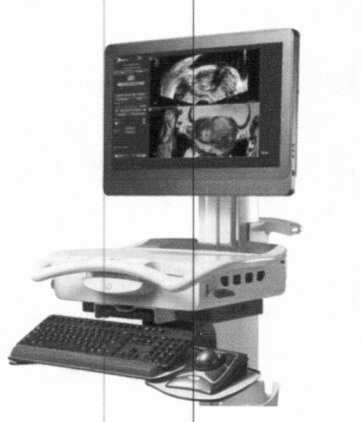 This complete clinical MR solution for the prostate consists of DynaCAD for Prostate and the UroNav fusion biopsy system – a comprehensive solution which offers a cutting edge imaging option for many patients with elevated and/or rising PSA levels
Targeted MR/ultrasound biopsy is poised to become the new standard in prostate care. UroNAV fuses pre-biopsy MR images of the prostate with ultrasound-guided biopsy images in real time, excellent delineation of the prostate and suspicious lesions.
The fusion of the MR and ultrasound images uses electromagnetic tracking, similar to your car's GPS system; a tiny tracking sensor attaches to the trans-rectal ultrasound probe generates a small, localized electromagnetic field that helps determine the location and orientation of the biopsy devices. A sophisticated algorithm maintains the fusion of MR and ultrasound images, even when the patient moves.
What is the UroLift® System?
Treatment with the UroLift® System is typically a one-time, in-office solution that provides rapid relief and recovery for men living with symptoms of an enlarged prostate.
It breaks the cycle of medications and how they make a person feel, all without the risks of traditional surgery.
The goal of the UroLift System treatment is to relieve symptoms so you can get back to your life and resume daily activities.
A Minimally Invasive BPH Treatment
The simple UroLift System treatment typically performed in the doctor's office uses time impacts to hold open the obstructed pathway that's blocking urine flow, addressing the blockage, not just continuously treating enlarged prostate (BPH) symptoms. Most patients return home immediately and experience a speedy recovery.

Enlarged Prostate
An enlarged prostate can narrow or even block the urethra, causing bothersome urinary symptoms.
Step 1: The UroLift Delivery Device is places through the obstructed urethra to access the enlarged prostate.
Step 2: Tiny UroLift Implants are permanently placed to life and hold the enlarges prostate tissue out of the way and increase the opening of the urethra.
Step 3: The UroList System treatment provides fast and reliable symptom relief by opening the obstructed urethra.
Why the UroLift System?
The UroLift System provides a proven treatment that can get met off BPH medications which can make a person feel foggy and cause sexual dysfunction. Treatment with the UroLift System has a risk profile better than surgical procedures that may have serious complications and a long, painful recovery. The treatment may be right for you if any of the following apply:
You want a BPH solution that preserves your sexual function*
You tried BPH medication and are unhappy with the side effects
You want to regain your quality of life with limited downtime
You do not want to take a pill for BPH
You do not want to undergo a major surgery due to risks of complications and side effects
You want a minimally invasive treatment that can be performed in your doctor's office