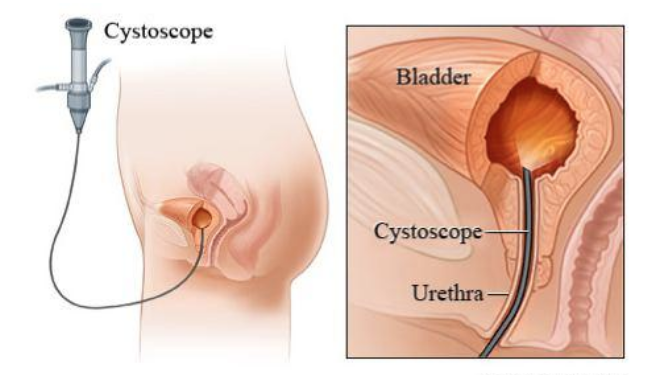 A cystoscopy is done by inserting the cystoscope into your urethra. This will allow your provider to see inside your bladder and urethra. If a tumor is seen on cystoscopy, a biopsy will be taken and sent to pathology for further evaluation.
What to expect after surgery?
When you wake up from surgery you may have a foley catheter in place. The catheter may be attached to an irrigation system that will help in flushing out the excess blood from your bladder to prevent blockage from a blood clot. When your urine is light pink the foley catheter will be removed and you will be asked to urinate. If you cannot urinate the foley will be replaced and you will be asked to follow- up in 1 to 2 weeks.

Your urine will be blood tinged. It is important to drink plenty of fluids to flush the blood out of your bladder.

A scab from where the tumor was removed will eventually fall off and you may see intermittent blood in your urine. When this occurs, decrease your activity level and increase your fluid intake. You may have blood in your urine for 4 to 6 weeks.

You may have increased urinary frequency and urgency immediately after surgery. This should resolve in the first 2 weeks. You may need a prescription for a bladder relaxant.

On the day after surgery it is very important to get out of bed and begin walking. This will help prevent Deep Vein Thrombosis (DVT). Please follow the DVT prevention handout.

Your bowels may be sluggish after surgery and pain medication can increase constipation. Follow the postoperative bowel program handout.

You may shower when you go home.

Use your pain medication as directed if needed.
Activity and postoperative restrictions
Walking and light exercise is important in preventing Deep Vein Thrombosis.

You should expect to return to work in 1 week or less.

You should reduce your activity levels for the first 1 to 2 weeks while healing.

Use stairs gently for the first week.

No heavy lifting, pulling or pushing over 10 to 15 pounds for 2-3 weeks.

No strenuous exercising for 2 to 3 weeks.

Avoid sexual intercourse for 1 to 2 weeks.

Do not drive while taking narcotics.
Diet
You may return to your normal diet. You may want to avoid acidic foods and drinks that may cause burning with urination. Drinks with caffeine may cause frequency and irritation to your bladder. If you're not on a sugar or salt restriction diet, drink 8 to 10 glasses of water and Gatorade daily to avoid constipation and to prevent a possible urinary tract infection.
Medication
You should resume your pre-surgery medication unless told otherwise.

Do not take any aspirin products for the first two weeks.

If you are taking Warfrin or Plavix, follow-up with your primary care provider postoperatively. They will discuss with you when to resume medication and dosing recommendations.

If you are taking pain medication or iron supplements you should also be taking a stool softener to keep from becoming constipated.

If your pain is mild you can stop taking the pain medication and switch to acetaminophen.
Medications and items to have at home before surgery
Stool softener

Fiber

Milk of Magnesia

Acetaminophen
If you experience any of these symptoms please call   New Tampa Urology at (813)-558-9091:
Fever over 101 Fahrenheit by mouth

Pain not relieved by medication

Rash, itching after taking pain medication

Continued nausea and vomiting

Inability to urinate

Swelling of the calf, ankle or foot

Increased warmth of the leg

Pain in the leg

Bluish discoloration of the skin or leg
Postoperative follow up
You will need a follow-up appointment to monitor your progress in 1-2 weeks postoperatively once the pathology results are received.  You can make your postoperative appointment at that time or by calling and speaking to a receptionist. If you have a catheter your follow-up appointment will typically be within 1 week after surgery.